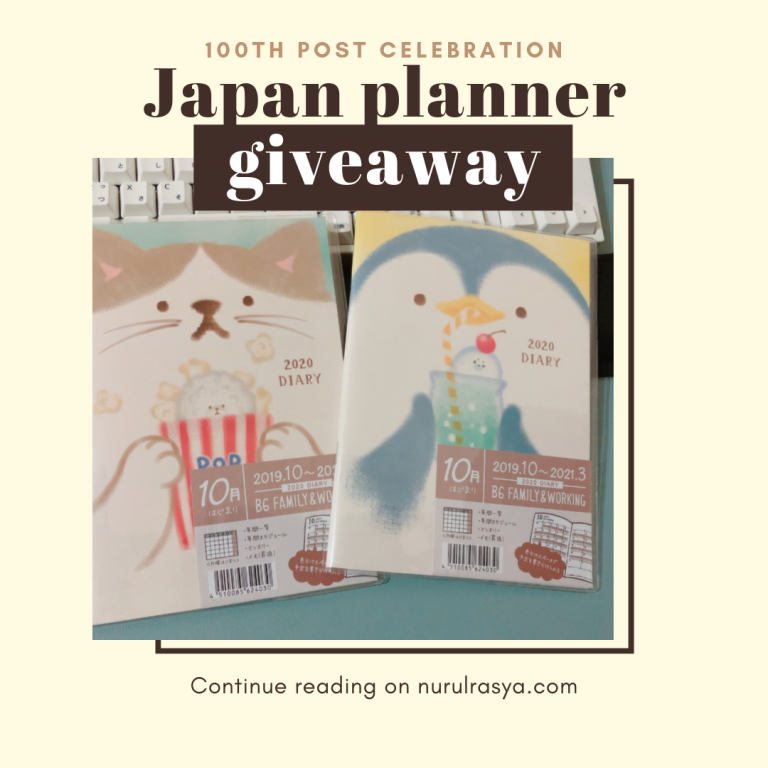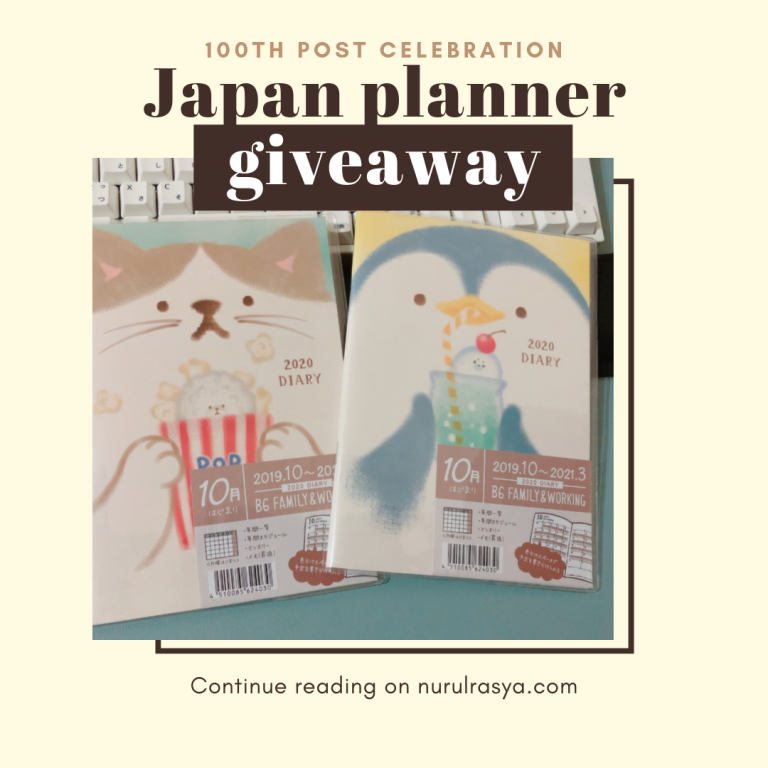 assalamualaikum and peace upon you!
rasya ada buat giveaway sempena post yang ke 100! congrats!! ❤
senang sangat nak join dan hadiah pun best2, planner tu comel gilaaaa 😄
kalau nak join boleh klik gambar kat atas! or <
here
>
tamat pada 17 october 2019 (esok gais, masih sempat nak join ramai2)
may the LUCK be with me! jyeahhh~
ilal liqa'
see ya when i seeeee yaaaa~
Wednesday, 16 October 2019
lama dah tak update cerita pasal life sekarang. aku dalam slump sekarang. bukan writer block. banyak benda nak cerita tapi mood menulis tak ada. nak rasa blogwalking pun malas. entah la kenapa, adakah ini tanda2nya aku dah dewasa? hahahhaha
aku di fasa malas. aku memang selalu malas. tapi kali nie malas aku macam menjadi2. kau tahu rasa macam malas nak buat apa2. bosan dengan rutin harian yang sama. hidup macam dah takda impak lagi. over betul ayat. ahaks
assalamualaikum dan salam sejahtera~
aku ingin jadikan hidup aku bermakna. tapi macam sekarang aku hilang arah. walaupun aku macam okay je okay je, lately aku banyak fikir benda apa yang aku patut buat. in future to be exact. aku masih ada impian yang belum terlaksana. aku masih banyak rancangan yang belum tercapai.
kekadang aku rasa nak lari dari rutin hidup yang membosankan, tapi bila fikir sejenak. mampukah aku atasi perubahan? aku takut aku terbiasa dengan rutin biasa. aku banyak rancang nak buat hal besar2, tapi rancangan jadi impian yang mungkin tak jadi kenyataan sebab bila ditimbang, lebih berat ke arah aku tak mungkin mampu atau aku sebenarnya mampu tapi malas dan takut hilang 'passion'.
so, here i am writing this nonsense.
banyak benda boleh buat aku happy, banyak jugak benda boleh buat aku UNHAPPY.
hidup kena balance, orang tua kata, jangan gembira sangat takut nanti sedih/menangis/kecewa. ada benarnya jugak kan. tapi bila sedih2, it is better to remember a happy thoughts kan. bila gembira, appreciate la the moment kan.
ewahhhhhh~
so chill everyone!
do it on your own paces!
jyeahhh we can!
next month aku travel lagi. ohoh can't wait!
(the rojakness in this post i kennot)
be happy gais!
ilal liqa'
thanks for reading ohoks! >o<